Grapat!  Toys That Evoke The Designs of Nature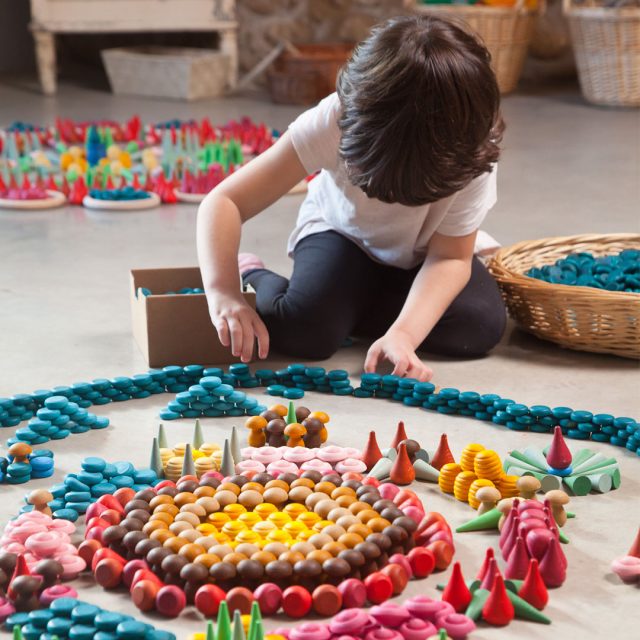 Grapat is a Spanish company that makes beautiful, sustainable wooden toys. Each toy is handmade from sustainably sourced wood and finished with natural oils for safe playtime..
Grapat Wooden Toys was founded by Casiana Monczar and Jordi Soler, a Catalonian a couple from a small town in the Pyrenees Mountains of Catalunya who were inspired by how their daughter played when given the freedom to play with her natural surroundings.
They noticed that their daughter enjoyed playing with everyday items more than toys.
They began creating and playing with wood, which led to the creation of a fully operational workshop.
Grapat has grown a lot since its founding in 2015, spreading globally over 62 countries and needing more and more production space every year—but it is still, at heart, a family project.
It is Casiana and Jordi's manifestation of the way they live, as well as their vision for the future. They treat every piece with care—as if it were another child in the family
The name Grapat comes from the Catalan word for "a handful," and this is what inspired their vision as a simple project: to carry pieces of art lightly in our hands and offer them with love into children's palms.
Casiana and Jordi believe that when a toy is given to a child without instructions, it inspires the child's imagination and creativity.
Grapat wooden toys are a fantastic way to encourage creativity, problem-solving skills and open ended play. Their products are eco-friendly in every way—from their visionary designs down to their packaging. They make natural, sustainable and open-ended play materials.
Building a Free-Play Space: 3 Simple Steps with Casiana Monczar
Provide a space that they can call their own, where they are free to play as they wish but they chose to lead and drive outcomes.
Materials: Provide several safe and child-friendly materials.
Observe: Watch your child play and learn. When she is interested in a particular toy, give her more time to explore it while you stay nearby. If another toy grabs her attention, remove the first one as soon as possible so that she can move on from it naturally—thereby increasing her independence with every experience
These three steps can be accomplished without special toys or training.
Giving our children a space to play is not enough. We must also give them the freedom, confidence and security within that space to engage with what they are doing—to explore freely without fear of failure or criticism.
Grapat toys are sourced locally and all handmade with love, and each one is unique. Every part of each toy has been considered—from the dimensions to the shape or form; thickness of wood; and colour.
Their products are handmade in Spain using local timber and non-toxic dyes. All their items also finish with waxes and vegetable oils.
These artisans have learned to accept that we cannot control Nature, and so they focus instead on enjoying her.
When working on a project the goal is simplicity.
They draw inspiration from the true natural form of playthings and then reduce them to their essential parts, detaching from unnecessary or superfluous elements. This results in open-ended toys that children can use however they wish during imaginative playtime.
They still create new pieces and prototypes out of clay or beeswax, and still communicate with the world using their own authentic voice and keep staining pieces by hand in-house. Grapat Toys just couldn't be any different.
The Grapat philosophy is simple: they're in the service of childhood. They design with nature and children's spirits in mind, creating timepieces that are elemental to us all.
 Honeybee Toys know your child will love the freedom of " open play" with Grapat.