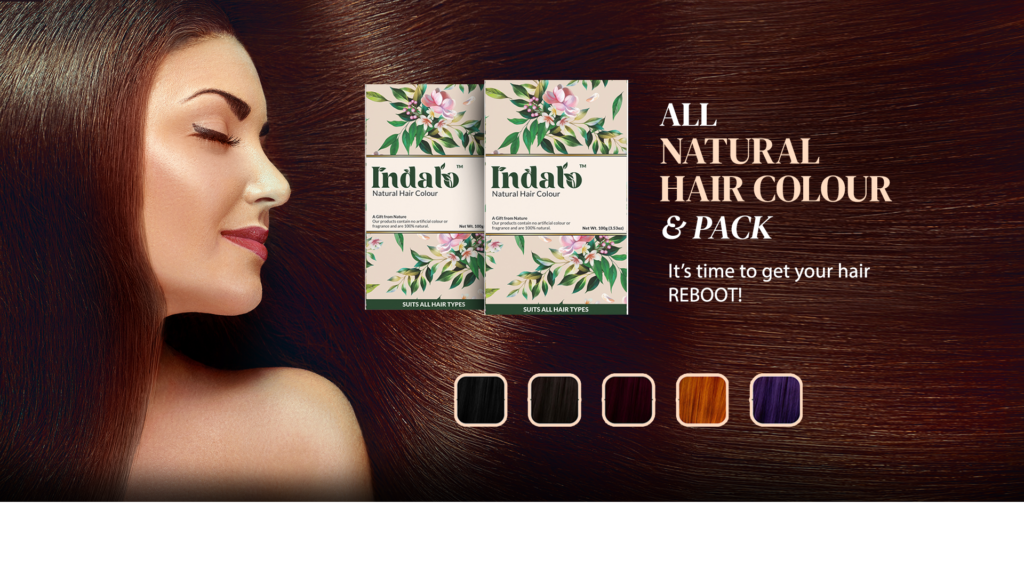 In the recent years, hair colouring has become a fad, more so as people are very open to experimenting with their looks, that is the reason we got Contrasting roots, Lilac pastel tones, Blue/Pink trendy streaks, Global dark wine red, Two-toned hair, rainbow hair colours and many more. There is a major shift from the kind of colour choices people desire nowadays and thus they sit in the salon chair for hours chemically treating their hair and damaging it. Our hair grows naturally as a result of keratin and dead cells which does not mean treating your tresses chemically continuously just to be in the trend. Stand out from others, shift to Natural Hair Colour and have strong luscious hair with benefits of natural hair colour. The body is a temple, treat your hair the same way you look after how much protein, fats, carbohydrates, and vitamins go inside your body through food.
Honestly, we all have three to four strands of grey hair and we do everything to hide it and not be mindful of the fact that we are a part of the early greying hair gang. For them, one of the biggest reasons to opt for natural hair colours for grey hair is to blend in the grey hair once in for all and not be bothered about it during your day-to-day life. Natural hair colour is bound to provide benefits anyhow, no matter what, it is loaded with natural elements which will nourish your hair in the right way and not leave it harsh and dry like permanent hair colour tend to do through some of the most hazardous and toxic components for hair textures.
We at Indalo not just cite natural for the sake of it but are 100% pure nature-based, offering a variety of high-quality Natural Hair Colour enriched with herbal extracts, for those who always think of colouring their hair but step back as chemical treatments scare them and also for greying of hair. Indalo is known for its Natural Hair Colour range with no preservatives, no ammonia and no PPD added to them and is manufactured under the guidance of Japanese professionals. The Ayurveda-induced ingredients in our products are coming to you from nature's precious arms and it is well-suited for every hair type. The vigorous search for the best natural hair colour in India ends with Indalo.
5 Benefits of Natural Hair Care with Indalo's hair colour range:
Colouring with natural ingredients is better than hazardous chemicals
Why would you opt for hazardous chemicals when a better alternative is present right here? Many are allergic to the toxic chemicals and end up having a rash reaction to the chemical colours, it is anyways recommended to do a patch test beforehand but Indalo's hair colour is based on herbal extracts such as Hibiscus powder, Amla powder, and Shikakai powder, right from nature's hand.
Nourishment as a Bonus along with the desired colour
The benefits of natural hair colour are never not limited, it won't just give your hair a new colour but simultaneously deeply nourish your scalp and hair strands due to its natural components, which basically also works as a hair pack-cum-hair colour.
Body clocks are ticking and so the grey hair is sprouting here and there. No worries lovelies, we got you! The benefits of natural hair care through Indalo are guaranteed to blend and cover up those melanin deficient strands right along with the rest of your hair. The degree to which Indalo's natural hair colour for grey hair works as literal magic that revamps your hair and stance within an hour. In this fast-paced life, this is the way to go!
No damaging of the precious tresses
The amount of time and money people spend in the salon chair to get their hair coloured on top of damage with the toxic chemical is just a no-no. In the current state of the world, when things are in shambles why degrade yourself more through chemical treatments. Indalo's hair colour range is suitable for every hair texture and type, leaving them nourished and thriving, instead of dry and brittle.
Extremely environment friendly
When we are taking so much from the environment, then why not take crucial baby steps towards our mother earth. The biodegradable content of Indalo hair colour makes it eco-friendly and has no water pollution or contamination. It is all herbal-based and adds a cherry on top of the other benefits of natural hair care.
Now, it is pretty clear why you should opt for natural hair colour instead of permanent hair colours. The organic and herbal components of Indalo's are the best in this game so head over to our website and avail these benefits of Indalo's natural hair colour carefree!