Adjustable Murphy Bed Mechanism Ideas That Change Your Perception of This Extremely Efficient Product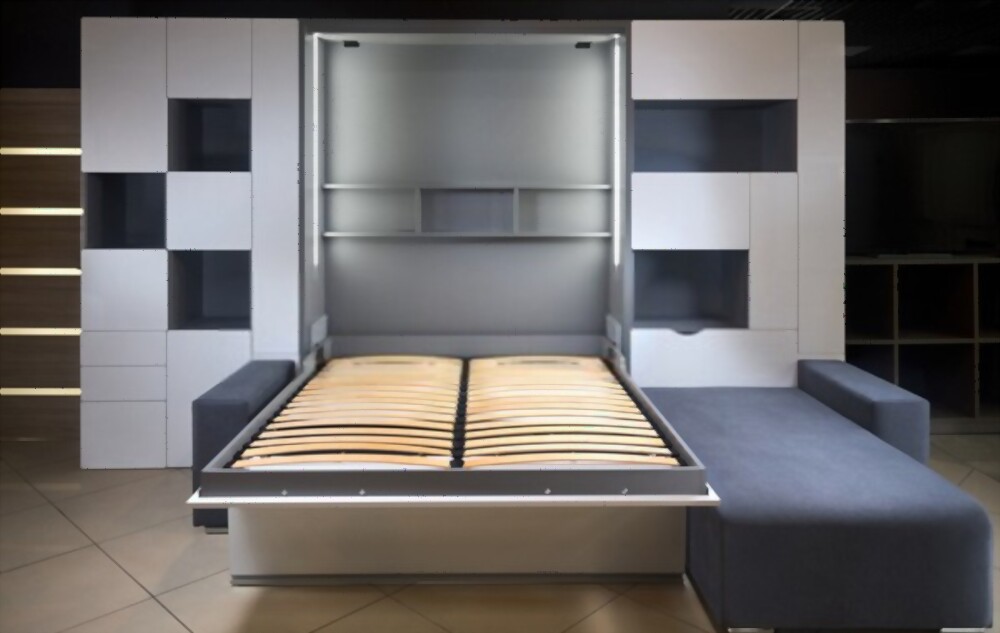 Sometimes we are forced to live in a confined place because we have no other option. Others, however, would rather live in a compact area than a large one. Regardless, if your home has little floor area, you will undoubtedly look for strategies to conserve space. Murphy Beds receive a lot of praise for converting small bedrooms, home offices, or playrooms into multifunctional areas, but they are sometimes disregarded in terms of style. A mattress, frame, and Adjustable Murphy Bed Mechanism are all you need to benefit from this innovative furniture. The rest is up to you. Check out the creative ways Murphy Beds fit into these rooms without sacrificing style or comfort.
The Evolution Of Murphy Beds
Did you know that William Murphy, the man who invented the Murphy Bed, is immortalized by them? Around 1900, he put this patented concept into practice. His idea was a result of the culture at the time when it was considered indecent for a woman to enter a man's bedroom.
To accommodate guests of both sexes, Murphy came up with the concept of turning his one-room apartment into a parlor and a sleeping space. Murphy improved the prior versions with the pivoting, counterbalanced design even though there were other fold-up beds. As a result, the fold-up, concealed beds started to bear his name.
What Should You Consider While Selecting A Murphy Bed?
To begin with, you should always measure your room to ensure your Murphy Bed will fit. Customers frequently focus on the Murphy Bed's height and width when folded up but neglect to take note of exact dimensions when it is unfolded for usage.
The two main varieties of Murphy Beds, wall-mounted and freestanding, should also be considered. Wall-mounted Adjustable Murphy Bed Mechanisms require additional labor during installation because they must be fastened to the wall, unlike freestanding Murphy Beds, which don't. Although the latter is better for people with less permanent living arrangements, such as renters, the former is more durable.
1. Desk with Murphy Beds
Most individuals who have an additional bedroom use it as their home office, but they also want to have the option of using it as a guest room when friends or relatives come to visit. Think about putting a new bed inside a desk to conceal it!
The desk's work surface could protrude out in a flat piece, giving it the appearance of an upright piano. The remainder of the construction, which appears to be cupboards, conceals a mattress and frame. Some designs even preserve the desk's contents in their original locations when the bed frame is lowered.
2. Apartment Studio Murphy Bed
When space is a luxury, you need a carefully planned work/life balance approach. With a large desk, shelf, electrical outlets, and an integrated charging station, it's business as usual during the day. Put your workweek away at night to reveal a full-sized bed. There is space for everything, from clothing to office supplies, in open and closed storage.
3. A Tall Cabinet With Murphy Beds
This Murphy Bed will be perfect if you want to make the rooms into multipurpose areas while saving a lot of space. This style of Murphy Bed will fit in a gym, an office, or a studio area because of its lofty length. Even the highest walls can include the bed due to its modest width. The height also provides the rooms with their perfect depth and proportions.
4. Adaptable Office
Such an intelligently designed bed strikes a perfect compromise between the necessity for working space and the requirement to host out-of-town visitors. A side-tilt concealed wall bed with lots of storage cabinets to tuck away sheets and supplies will make a comfortable sleeping area without interfering with the regular operation of your business.
5. Bookshelf Murphy Bed
The ideal suggestion if you're seeking a challenging Murphy Bed project is to use it as a bookcase or a storage space, among other things. Typically, the built-in is light. Even so, the bed will be snug and comfy. This Murphy bed feels similar to a typical mattress, with shelves and various storage areas.
6. A Sofa and a Murphy Bed
Standard sofa beds are excellent for overnight guests, but the Murphy Bed variant will often be more comfortable as a sofa that will serve as a bed every night. This is due to the folding nature of the couch bed's lack of adequate support, which, when used frequently, can induce or make back discomfort worse. Additionally, the operational mechanism might rapidly break down from usage if the bed is dragged out of a sofa every night.
A Murphy Bed paired with a couch piece leaning against the wall is referred to as a hybrid option. When you need to use the bed, the sofa's front panel is pushed out, the cushions are taken off, and the bed's mattress and frame are pulled out from the wall. This creative design's sturdy, secure surface is ideal for sleeping.
7. Murphy Beds For Bunk Beds
Murphy Bed bunk beds are a unique variation on the standard Murphy Bed. They are comprised of two stacked beds with a ladder running up to the top. The bed frames line up to form one big piece that hugs the wall when the beds are folded away.
8. Bookcase Murphy Beds
One of the primary problems with Murphy Beds is that all the significant elements could not be as fascinating or graceful once they are elevated in the not-in-use position. Therefore, these components can impair the room's style and be unsightly beside a plain wall.
The good news is that Murphy Beds are often available in various styles to suit your needs and aesthetic choices. One of the best options, for instance, is a Murphy Bed wholly surrounded by bookcases. Excellent balance is provided by the bookshelf design, and the bed's footboard would resemble a stylish armoire.
9. Murphy Queen-Size Bed
The queen-sized Murphy Bed, created to fit into a room with extra space, will be just as snug and comfortable as a regular bed. Additionally, this piece of furniture gives a lovely decorative touch. Depending on your preferences, you may add special finishing touches like black hinges. Additionally, this piece of furniture is adaptable so that it may be made to suit your guest room or home office.
10. Den Murphy Bed
The perfect Murphy Bed would harmoniously and attractively fit its surroundings. This is what the Murphy Beds for dens provide. The walls would appear to be flush with these beds. Pick the perfect tiny niche to place your bed in to resemble a closet rather than a giant piece of furniture.
11. Murphy Bed in a Chest
A Murphy Bed concealed within a small bureau is an excellent example of how form and function coexist. If you want a bed that doesn't look too weighty or huge, these offer a more compact piece that would seamlessly merge with the rest of the room
The mattress may be tucked away into what looks to be a typical chest of drawers when not in use. However, the cabinet's face may be pushed down to expose the bed frame when it's time to go to bed.
When it's time to sleep, you may pull down the cabinet's face to expose the bed's structure. Depending on the model, the mattress may or may not be included. Some variants are more minimalistic, hiding only the frame; the mattress would need to be kept separately.
12. Closet-Enclosed Murphy Bed
The outside of this piece of furniture-a Murphy Bed enclosed in a closet-is its most significant advantage. This design's surface makes everything appear neat and orderly, but it is still just as comfortable.
Concluding Words
Murphy Beds may now be used as standalone furniture that includes anything from workstations to bookshelves and serves as the focal point of creative storage solutions. Murphy Beds allow you to sleep comfortably while conserving a lot of room. Most spaces double as a living area during the day and a bedroom at night. However, you may also use it in your bedroom.
You can use any of these Murphy Bed styles as inspiration once you get your hands on an Adjustable Murphy Bed Mechanism.Create-A-Bedoffers state-of-the-art equipment that is safe and easy to use and install. Check out their website today for more information.